I have been, or can be if you click on a link and make a purchase, compensated via a cash payment, gift, or something else of value for writing this post. Regardless, I only recommend products or services I use personally and believe will be good for my readers.
Earlier this month, I spent nearly a week in Chicago for a few blog related events.  On a Sunday afternoon, I found myself with some spare time and the opportunity to visit the Shops at North Bridge on North Michigan.  On route to check out the racks at Nordstrom's, I spotted a vendor offering hair removal for your face. After having heard about the technique for years, I decided it was the perfect opportunity to experience eyebrow threading for better shaping of my often out of control eyebrows.
I have tweezed my brows for years but admit that my ability to shape my eyebrows is rudimentary. I still remember one time in high school having a good friend's mother do it for me. The end result was gorgeous and a lot thinner than what I'd done for myself. Maintaining it was a struggle, though.
Waxing is a technique I've tried on occasion at the beauty parlor.  While you can buy strips to do it, I keep that method for areas that are harder to mess up such as my lip or chin.  (Yes, a downside of being 50% Italian is some serious hair growth…especially where you don't want it!)


If you've never seen threading in action, it is rather interesting.  There's definite technique for using ordinary thread to help pull the hairs from your body.  The more the person has done it, the better the result.
It is also something that doing for yourself is pretty much impossible.  For my eyebrows, I had to help by pulling ever so slightly on the skin to keep it taunt.
Compared to my usual tweezing, this was definitely a bit more 'painful.' That isn't surprising as the threads are working in concert to pluck the hairs from your skin. Instead of one hair at a time, there are whole areas coming up. After the initial 'shock' of how it felt, I didn't mind it so much when done around my eyebrows. (My upper lip was a whole different story!)
A benefit for this method is that even the finer hairs are removed.  This is something that can be a challenge for me with using just tweezers.  The spinning /  twisting action of the thread allows for those finer hairs to be captured and removed.
The downside is if your skin is very easily irritated you'll notice inflammation for a day or two.  I actually had areas look like I was breaking out with acne.  However, some people never experience this after effect at all.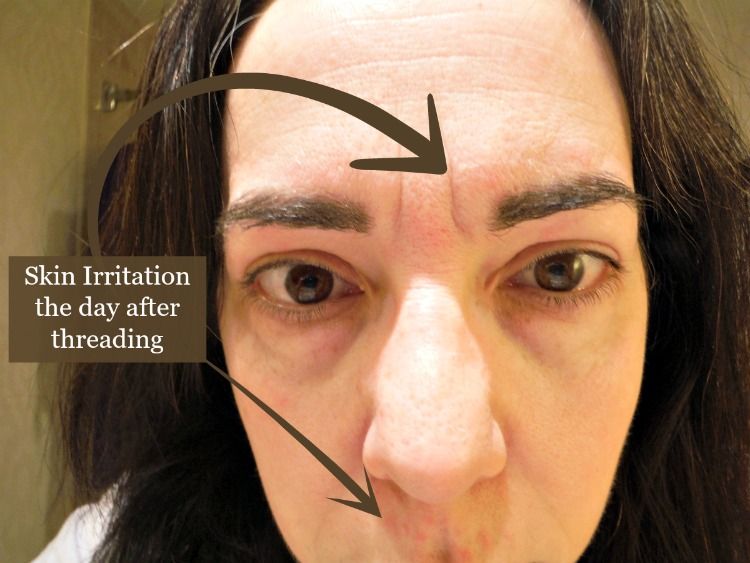 After a few days, though, things calmed down and I was left with well-shaped eyebrows.
Check out This Video of the Eyebrow Threading Process:
When I arrived home, I had someone comment about how much DARKER my eyebrows looked. No filling in with an eyebrow pencil was required. Although, with my struggles with hair loss from thyroid issues, I might be ordering up an eyebrow kit soon. Or maybe just this product from Julep (affiliate link):

Lock Down Your Brows – $22.00
Put your brows in their place What it is: A clear setting gel infused with brow-boosting peptides and nourishing Power Cell Complex. What it does Shapes and tames brows with a flexible, natural-looking hold Lasts all day with no crunchiness or flaking Conditions hair and prevents breakage Encourages healthy regrowth in sparse or over-plucked areas Learn more about Lock Down Your Brows – Iconic Brow Gel on the Julep Blog (here).
Do you shape your eyebrows at home or visit a salon for it?
Have you tried threading to achieve more shapely eyebrows?