I have been, or can be if you click on a link and make a purchase, compensated via a cash payment, gift, or something else of value for writing this post. Regardless, I only recommend products or services I use personally and believe will be good for my readers.
During an unseasonably cool and rainy stretch of days in May, I spent time networking and working on my business.  The Hard Rock Hotel Chicago was the hub of all activity associated with the Type-A Parent Mastermind group I was in and the place I called home base for several days.
(Note ~ all expenses at the hotel were paid by me and my roommates, although we did get a special conference rate.)
The employees at the Hard Rock Hotel Chicago are quite helpful. I arrived several hours ahead of advertised check-in time and went to the front desk to have them hold my bags. Instead of just taking the bags, the staff member checked on my reservation and saw that there was a room ready.
Given I came in on a red-eye flight and was exhausted, I was thrilled to have access to our room almost 5 hours early.

Not that the main lobby isn't a neat area to hang out. I love to people watch and this is a great spot to do it with windows right on Michigan Avenue. They have plenty of chairs as well as an electric guitar station. I considered putting on headphones and giving it a whirl but never got up the nerve.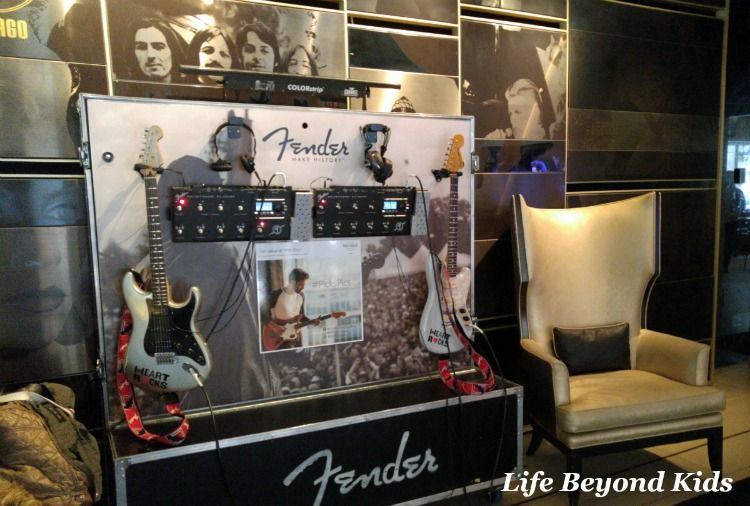 Guitars and other paraphernalia are everywhere. Guests can even rent guitars for their rooms to have a private jam session!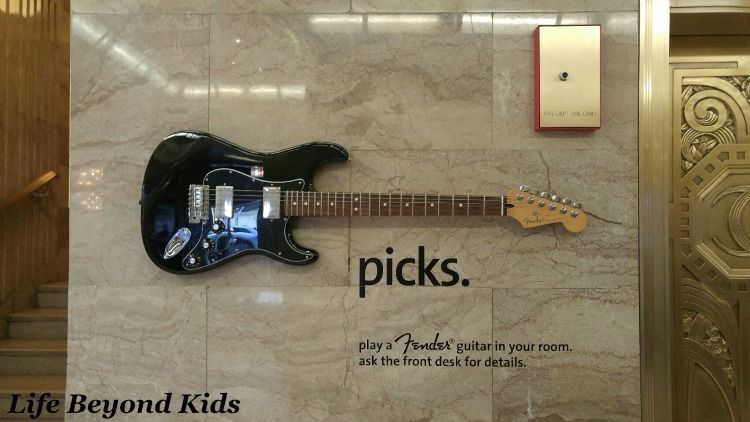 A Standard Queen Room at the Hard Rock Hotel Chicago
Unlike a few hotels I have recently visited, many of the standard rooms at the Hard Rock Hotel Chicago feature 2 queen beds.  Those few extra inches are important when sharing a bed, whether it's a girl's weekend or your family visiting the city.

No floor space is wasted with separate pieces of furniture.  Instead, you will find one long piece which doubles as dresser and desk. The flat screen TV hangs above the dresser component giving you ample 'counter' space for any items you want at the ready.
Instead of the typical small coffee pot, these rooms had a small sized Keurig brewer with a few K-Cups to choose from for the important morning dose of caffeine.
The bathroom is on the small side with everything behind the bathroom door. However, it is highly functional with the fixtures having a fresh, modern feel.

As one might expect, the Hard Rock Hotel in Chicago pays homage to many rock stars through the ages. Each floor has a display case with memorabilia from the floor's particular artist.  I was on the 6th floor for my stay which was dedicated to Boy Dylan. The large mirror beds had a quote on it.

Check out can be a total breeze, too.
Just drop your cards in the special record box and head on out!
Hard Rock Hotel Chicago Video Walk Through
Overall, I had a great experience for my stay at the Hard Rock Hotel Chicago.  There were so many places within a quick walk or Lift/Uber ride, although I did not have time to do many activities. I'll definitely keep this place in mind for the next time I get to Chicago.
Have you ever stayed at the Hard Rock Hotel Chicago or another location of the chain?
What sights would you see on a visit to downtown Chicago?