I have been, or can be if you click on a link and make a purchase, compensated via a cash payment, gift, or something else of value for writing this post. Regardless, I only recommend products or services I use personally and believe will be good for my readers.
Do you dream of a tropical vacation?
This is a common dream for those in colder climates, especially during winter.
A trip this past year found me on the big island of Hawaii. Before heading out, I did take the time to consider how I can be dressing for Hawaiian adventures especially going from beach to town.
Dressing for Hawaiian Adventures: From Beach to Town
My big goal was to have a few pieces that could be worn over a swimsuit.
After all, you never know when you are seeing the sights that the opportunity to cool off in the ocean will present itself.
Plus, I am not like the boys who have suits that look like shorts. I needed pieces that worked together and were multipurpose.
Picking a Swimsuit
Over the past few years,  I have experienced significant weight gain compliments of my thyroid and associated immune system issues. About 40 pounds of extra weight have packed onto my frame.  So, I needed a new swimsuit for the trip.
I wanted to make sure it helped to cover my hips and upper thighs. Those are the areas which expanded the most. Like many women who are overweight, that is exactly what I wanted to hide.
My choice?
A Miraclesuit swim dress and boy does it work miracles!
Miraclesuit Women's Plus Size Marais One Piece Swimdress Swimsuit
I love this stunning purple one-piece suit with a top that fit my bosom well and a small skirt to cover the trouble spots. 
They also have black as an option. But, why go totally bland?
Plus, it was built to help 'suck in' the tummy. I take all the help I can get!
Alongside the suit, I selected a sun shirt to wear when in the water or sitting on the beach for long times.  The built in SPF of 50 was a must for this pale Alaskan chick with Irish blood in her. You KNOW you are pale when your mom asks why you are wearing WHITE pantyhose in a photo and you aren't!
Somehow I didn't get a picture of me IN the top, but this is what it looks like:
Kanu Surf Women's Plus Size Solid Upf 50+ Swim Shirt Rashguard, Purple, 1X
Dressing for Beach to Town Transitions
Something any plus sized gal knows is that you want something to cover you in transition times.
If I was just going from the townhouse to the complex pool, I could wear the sun shirt and feel fine.
But, if we were going to a beach, I wanted something more.
My choice?
A quick-drying skirt that I could also use running around town!
Tranquility by Colorado Clothing Ladies Size XXL Black Mini Stripe Skirt
You can find other sizes and print options, too.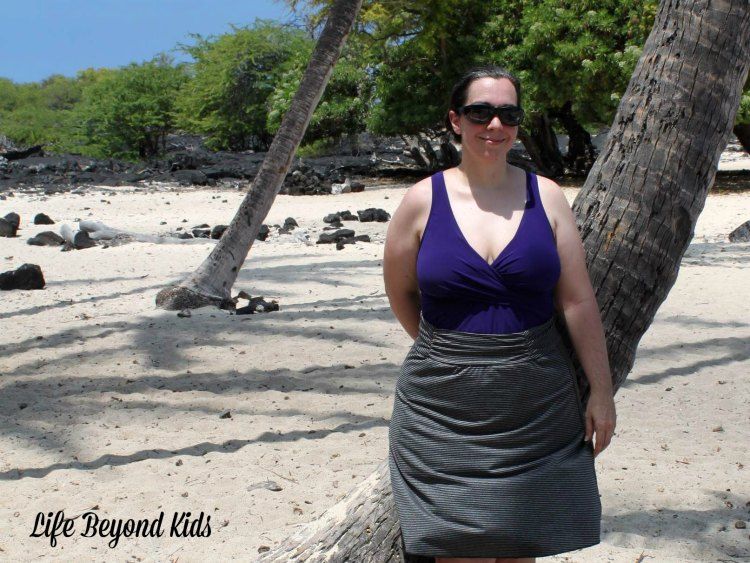 When I purchased this skirt, I was also thinking about it serving the other purpose of being my church clothes.
The black top along with a colorful beaded necklace worked well for me. (Necklace was from Beads for Life.)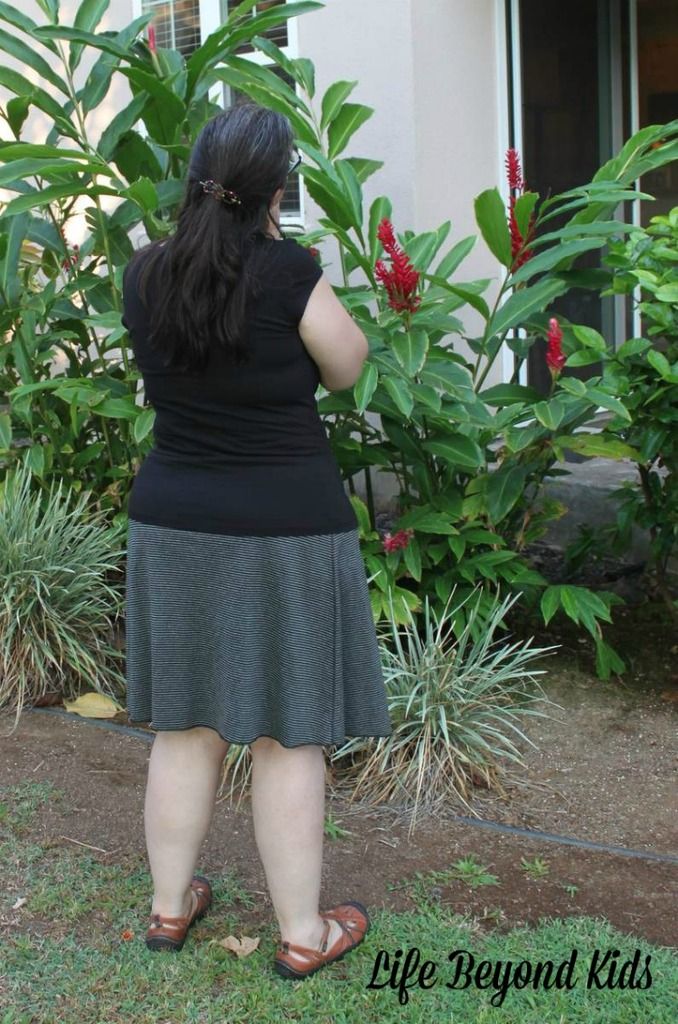 The shoes I wore are no longer available in that particular design.  Here is a similar one from the company. I love the sole that is made for walking.
JBU by Jambu Women's Melon Flat
Have you gone on a Hawaiian Adventure or visited other tropical locations?
How did you plan what to wear that could be multi-purpose?
This post is linked up with Turning Heads Tuesday,  Style Me Wednesday, Beauty by Miss L, LinkUp with Lisa, Jersey Girl Texas Heart, Spread the Kindness, My Red Carpet Fashion LinkUp, Fashion Frenzy, What I Wore @ Pleated Poppy, Top of the World Style, A Labour of Fashion, Sincerely Paula's No Rules Weekend Blog Party, Spotlight Weekly LinkUp, Thursday Fashion Files, WIWT LinkUp,