I have been, or can be if you click on a link and make a purchase, compensated via a cash payment, gift, or something else of value for writing this post. Regardless, I only recommend products or services I use personally and believe will be good for my readers.
As a mom of all boys, there were many years when jeans and a t-shirt was all I wore. Well, except for getting dressed up on Sunday for church. In the last few years, I have been branching out and finding my own personal style. Thanks to a friend, I was introduced to Rocksbox Jewelry which has expanded my options without buying new clothes.
Since I have had such a great experience so far with the service, I wanted to share about it with others.
What is Rocksbox Jewelry?
Rocksbox Jewelry is a subscription service. Consider it jewelry rental for the not so rich and famous.
Once you sign up for an account, you pick pieces from their collection that catch your eye. You can also indicate if there are types of jewelry you do not wear (e.g. earrings for me.) Then a stylist picks 3 pieces to ship your way.
Everything is packaged beautifully. Some pieces come with care instructions.
Make sure you do NOT throw out the packaging, including the outer envelope. Inside the box is a return label for you to use to send it all back in the original packaging. Although, they do provide pricing should you want to buy one or more of the pieces outright.
Not only that, but you get a $10 credit towards purchases every month that you belong. (And, if you love all 3 pieces in your box and buy them all, they offer another $10 discount towards the price.)
Feeling pretty in a Blue and Green Print Dress with Rocksbox Jewelry
While I had every intention of just wearing the selections from my Rocksbox Jewelry box with articles of clothing I already owned, I ended up scoring a new dress and handbag at a local sale.
The blue and green print called to me from the rack. Seeing it was in my size, I pulled it out to look over.
Being at a "name your price" sale where they welcome almost any donation amount, I decided to take a chance and bring it home.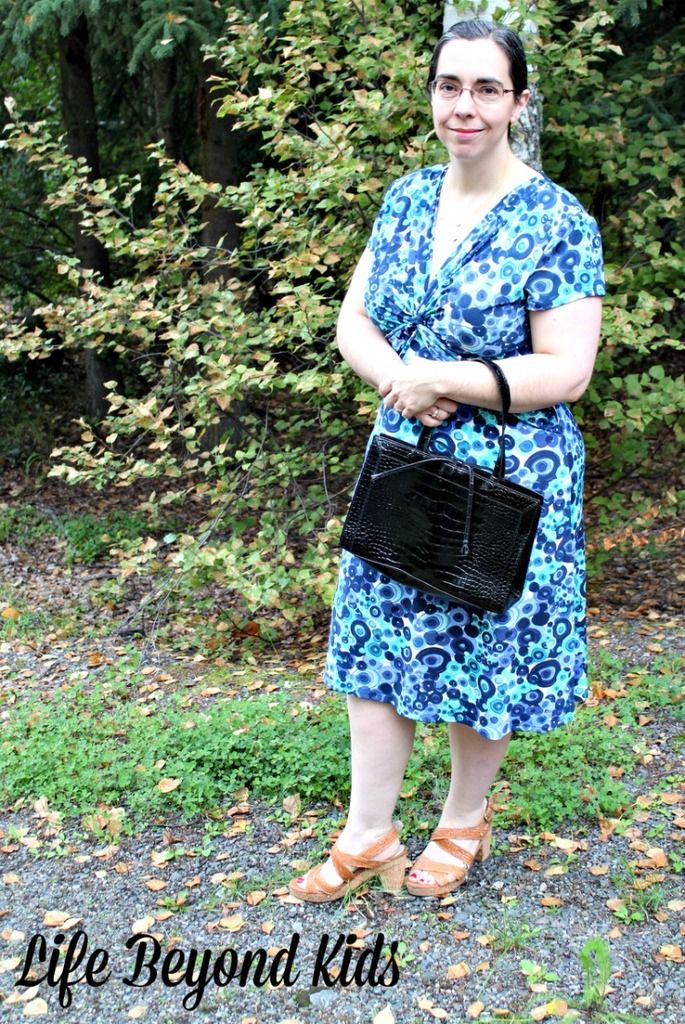 Shh….. the dress & Liz Claiborne handbag (black patent) cost me a whopping $3.
Putting the dress on and home and loving how it hugs my curves? Priceless!
I decided to first try the Jill Michael Folded Circle Layer Necklace in Gold with the dress. This is what I wore to church that day. I love the idea of a delicate necklace. It doesn't overpower anything while just adding a little finishing touch to the outfit.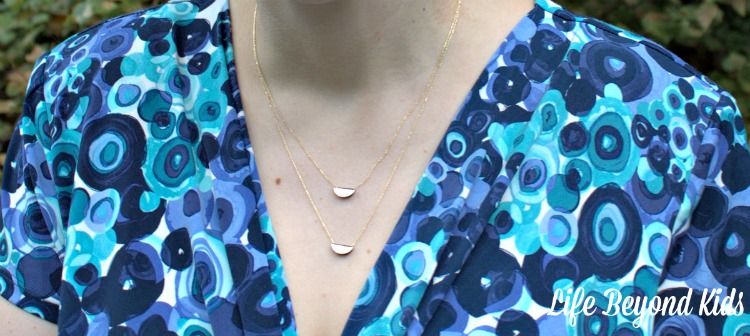 I will admit that in my 'older' age, I am starting to like more statement pieces. So, after church was over, I swapped out the delicate for the chunky. Perry Street's Olivia Necklace has both the chunk and the sparkle.

I'll confess, I far preferred the Olivia Necklace to the Folded Circle Layer one.
Try Rocksbox Jewelry for One Month…FREE!
If you sign up using the code LAURAOBFF4, then you get the 1st month of Rocksbox for FREE.  This is a great way to test out the service. And, we both win as I'll receive a credit to use towards a purchase or another month of service!
I love those win-wins!!
Which of the pieces I received appeals the most to you?
Have you used any subscription box services like this one?