I have been, or can be if you click on a link and make a purchase, compensated via a cash payment, gift, or something else of value for writing this post. Regardless, I only recommend products or services I use personally and believe will be good for my readers.
Last summer, I shared a casual patriotic outfit using a few pieces from my drawers.  I'm revisiting it with a few minor differences.
When you think of patriotic colors here in the United States it is all about the red, white and blue.
Pairing a blue and white striped sweater with dressy navy blue capris in a stretch fabric, I can play with accessories to dress it up or dress it down. The fabric of the capris has a dressier feel which makes this possible. While I love the ability of the pants to fit snug, yet move with me, I am not 100% in love with them. Thankfully, they were a $6 clearance find at Sam's Club.
I am loving this off-white purse from Relic. It is much larger than purses I've used in the past. However, it houses all my necessities with lots of room to spare.
Instead of the white sandals from last year, I found these cute silver sandals that look almost metallic on the clearance rack at Kohl's.  A downside of living in Alaska is that my skin is usually super white.  You know it is bad when your mom asks if you are wearing white pantyhose in a photo and its just your skin. The light, yet not white, tone of these sandals helps to minimize the white of my skin.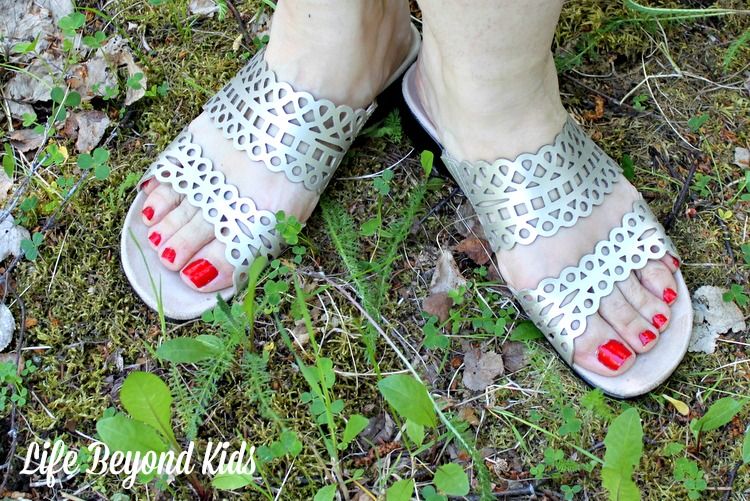 Some bright red nail polish meets the need of that third color to be patriotic and I think it helps make my feet more visually appealing. Of course, I could be in the minority of not really loving my feet and needing to spruce them up any way possible!
When it came time to accessorize, I was at a loss for the cute patriotic colored necklaces I remember buying on clearance last year.  Instead, I found the MIA bracelet I wore through most of my undergraduate years. The Mickey Mouse watch was bought on clearance at Kohl's last year for my birthday. I love the whimsy of it.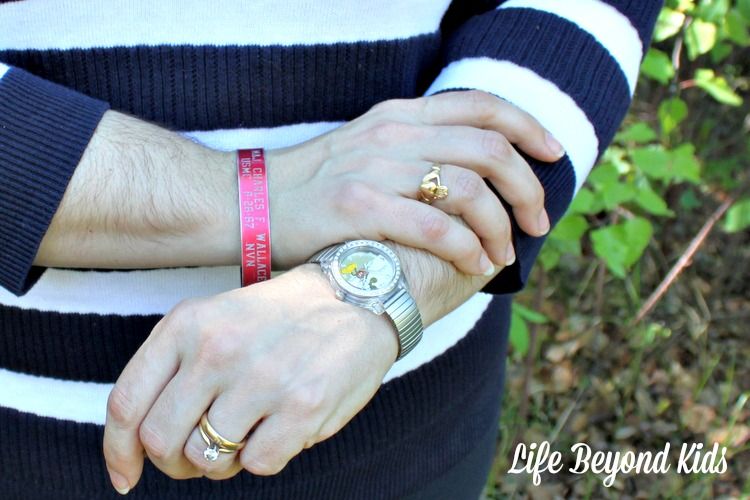 On patriotic holidays (such as Memorial Day when I was wearing this outfit), I definitely want to remember the men and women who served our country. The particular military member on my bracelet was labeled missing in action at the time it was made.
How do you dress for Patriotic holidays?
Do you favor casual outfits that can be dressed up or just keeping it really simple?
This post has been submitted to Turning Heads Tuesday, Top of the World Style,